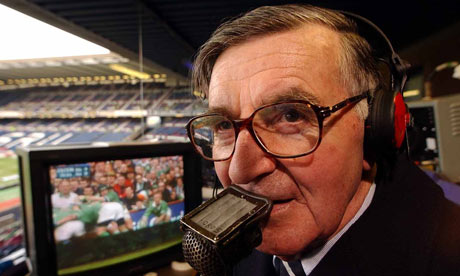 You may have had to make a "wee shimmy" today in Hawick to get a glance at the coffin carrying the voice, nae the bard, of Rugby Bill McLaren on
his final home match
.
On the birthday of the Bard of Ayrshire what more appropriate day to lay to rest the Bard of Hawick. There may be dancing of the streets all over Scotland tonight at Burns' suppers up and down the land. It will not be because McLaren told them so, but it seems a fitting way to mark his final journey earlier to day. I just hope nobody is like they have "
kicked 3 lbs of haggis
" tonight that is for the eating tonight.
Thankfully the hearse didn't "take off like a frightened" anything but carried the voice, now silent, at a sedate pace.