The
European Policy for Coastal Dunes
states:
"Management towards dynamic dunes should be promoted. A dynamic dune system is more resistant to erosion processes, is cheaper to maintain, has higher natural values and is more sustainable than fixated dunes."
Later today however work begins to stabilise part of the
fifth largest dune system
in the UK (pictured) after a decision by the Formantine area committee to
give the green light
to work to go ahead to stabilise them. When Donald Trump
first saw the Menie Estate
he thought:
"As soon as I saw it there was no question about it. I looked at 211 fantastic sites all over Europe, but here it is - the dune size and the ocean front. There is no piece of land that I have ever seen that is comparable to this."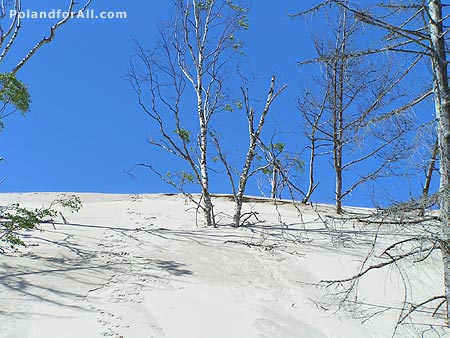 Sadly soon not even Balmedie will be comparable with what he first saw. The prime example of a dynamic dune system cited after the above quote from EU policy is the Slowinski National Park in Poland (pictured right) which has had a dynamic dune system for thousands of years.
The Balmedie Dune system stretches for 14 miles and Trump's golf complex along 2.5 miles of that length will seriously affect the eco systems of the other, by removing the dynamacism of the dune system. It may even led to serious erosion and dame to the system in other locales. While the EU is aware of the need to protect dunes, the fact that from today work will start to lead to the loss of one of the few remaining dynamic dune systems in the EU is a sad day.